To make sure we handled every tax scenario, we decided to let you customize your tax rates. To do so, log into the dashboard, then navigate to Store configurations > Taxes.
When creating a new tax rate, you have the option to select a country and a state/province. The country is always required. During checkout, your customers will get charged the tax rates that should be applied. For example: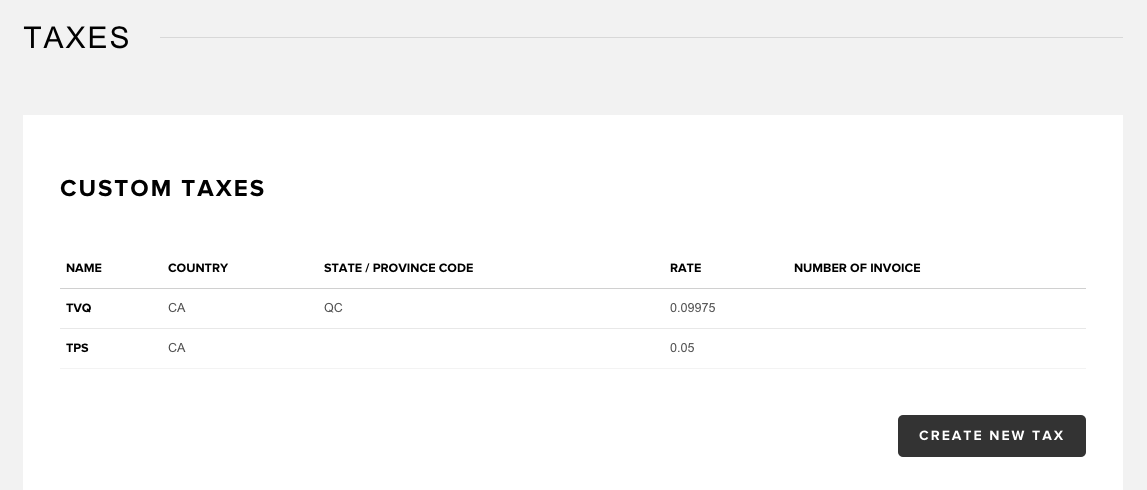 In the case above, a customer who has selected Canada as a country and Québec as a province will have both taxes applied to its order.
If the customer is from Canada, but from the province of Ontario, only the TPS will be applied.
Any customer who is not from Canada will have no taxes applied at all.
We know handling taxes can be different depending on the country your business is in. In case your product price already includes the tax amount, you can use Included in price option when defining your tax rate.
This way, the tax amount will be calculated based on the product price but not added to the cart total.
Example:
| Name | Amount |
| --- | --- |
| Subtotal | 300.00 $ |
| Shipping | 10.00 $ |
| Tax (20%) | 51.67 $ |
| Total | 310.00 $ |
Integrated tax management providers allow automatic sales tax calculation and may offer other benefits such as tax reports and filing.
TaxCloud is a sales tax automation service for merchants with a physical presence in the United States. It can be configured in Snipcart's dashboard quite easily. You will first need to get a TaxCloud account by registering on TaxCloud's site.
Now log into Snipcart's dashboard, go to Store configurations > Taxes and hit the Configure button beside the TaxCloud logo: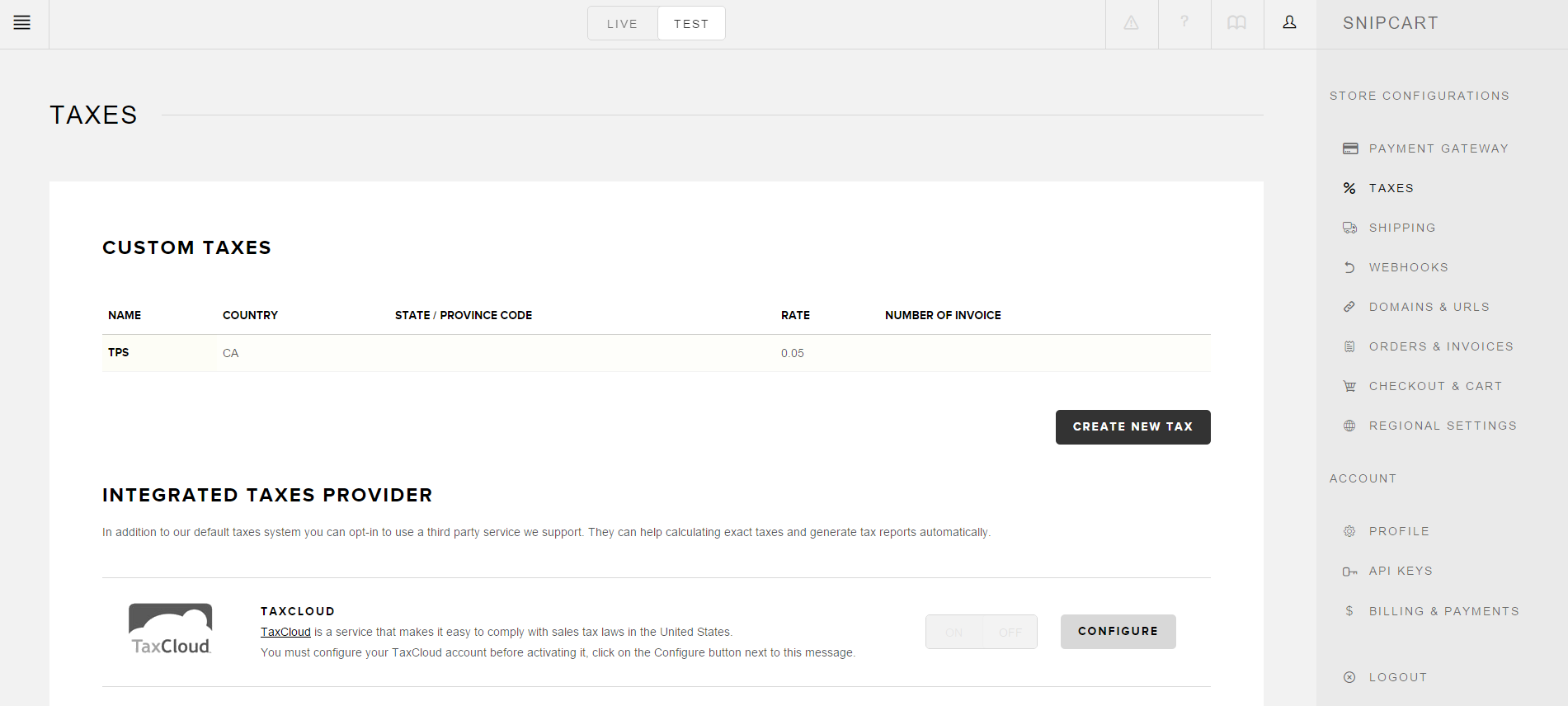 Then enter your credentials (API ID & API Key) in the form: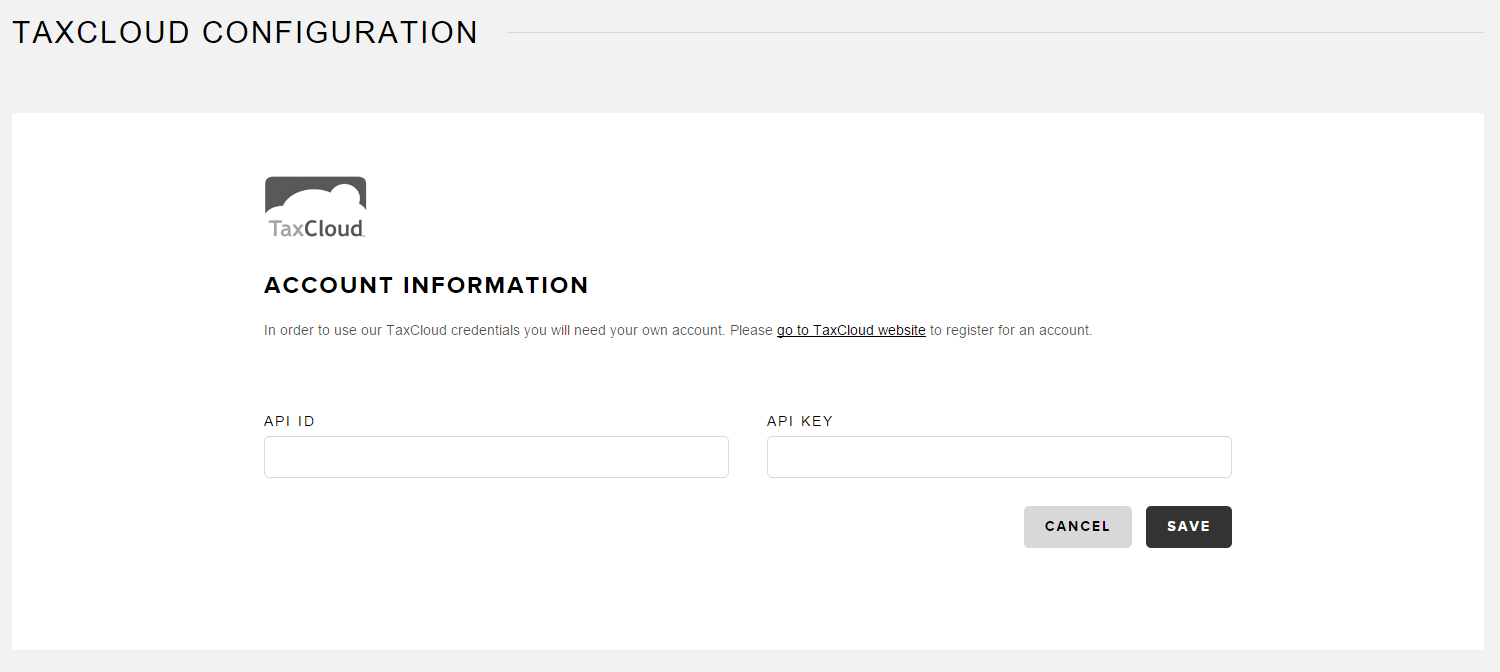 Now hit the Save button. You will then need to activate the provider in the Taxes screen using the On / Off toggle. Please note that you can't have an integrated provider and custom taxes working at the same time.
Products in the US can have different tax rules. To handle that, TaxCloud uses TIC; short codes used to calculate taxes correctly. If you need to specify a TIC code for a particular product you can use a hidden custom field named TIC.3
Here's a quick example:
<button class="snipcart-add-item"
  data-item-id="1"
  data-item-name="Shirt"
  data-item-url="/"
  data-item-price="20.00"
  data-item-custom1-name="TIC"
  data-item-custom1-value="21001"
  data-item-custom1-type="hidden">Buy now</button>